Welcome to Aventura
Live, shop and play in one of South Florida's newest communities, the City of Aventura. Spanning 3.2 square-miles and located on the Intracoastal Waterway in northeast Miami-Dade County, this evergreen community is the postcard-perfect destination for those looking to raise a family or invest in a waterfront vacation home. Conveniently situated between two major South Florida airports (Miami International Airport and Fort Lauderdale International Airport) and two of the largest seaports in the world (Port of Miami and Port Everglades), Aventura has been ranked one of the top destinations in the country for international visitors eager to invest in Miami's luxury real estate market.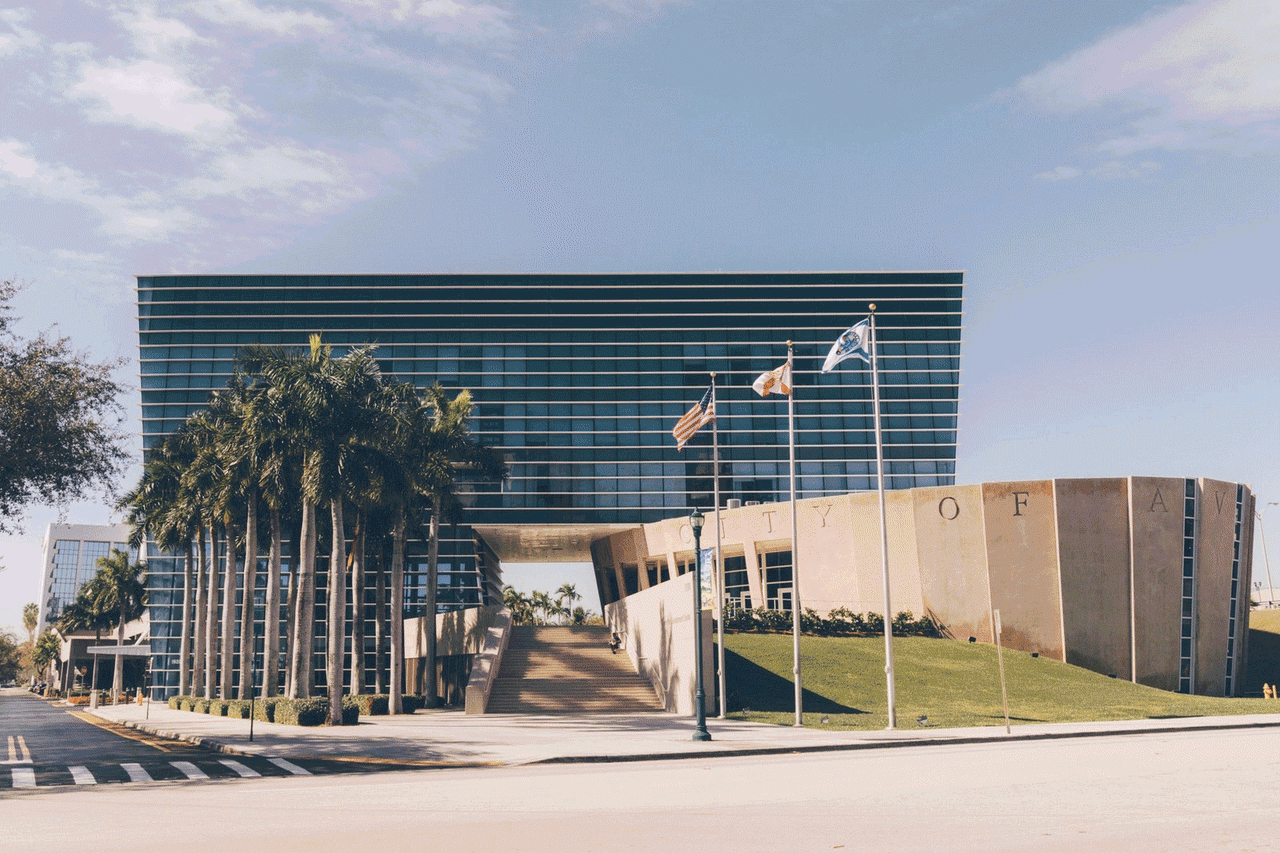 Evergreen Parks in Aventura
What makes this stunningly beautiful community so incredibly alluring is its expansive parks, donning some of the most plush and tranquil grounds in Florida. Aventura residents can bike, walk or roller blade on the Don Soffer Exercise Trail, open to the public 24 hours a day, year-round. Encircling the JW Turnberry Miami Resort & Spa Golf Course along Country Club Drive, this Oak Tree shaded 10ft wide paved ADA accessible walkway is landscaped with an abundance of ground lighting, benches, chilled water fountains, trash receptacles and crosswalks. Additional public parks that are pet and child friendly include Arthur I. Snyder Memorial Park, Founders Park (featuring an athletic field, fitness trail with exercise stations, open play area, picnic shelters, playground, water playground and tennis court), Peace Park, Veterans Park, Waterways Dog Park and Waterways Park.

​​​​​​​Pro golf players can visit the JW Turnberry Miami Resort & Spa Golf Course, offering two legendary 18-hole championship courses including The Miller Course and The Soffer Course. Initially designed by renowned architect Robert Trent Jones, Sr. and then later re-imagined by golf icon Raymond Floyd, this 36-hole total premium course has hosted the likes of multiple PGA and LPGA championships and is popular amongst celebrities and athletes such as Michael Jordan. After spending a day out on the green, members can head to CORSAIR kitchen & bar for garden fresh creations, looking out onto the golf course.
Family-Friendly Ambience in Aventura

A family-friendly neighborhood, there are many locally run public and private schools in the area. ACES, Aventura City of Excellence School, is the community's first municipally run charter school in Miami-Dade County. Greynolds Park Elementary School, Ojus Elementary School, Virginia A. Boone Highland Oaks Elementary School, Waterways K-8 Center, Don Soffer Aventura High School, Dr. Michael Krop Senior High School, North Miami Beach Senior High School, Highland Oaks Middle School, Miami Country Day School, The Tauber Academy and Scheck Hillel Community School are just some of the prestigious intuitions located nearby. In addition, the schools in the Aventura area offer students a wide range of advanced placement courses, rigorous college preparatory programs and demanding athletic and after school clubs.

Aventura Hospital, Northeast Dade-Aventura Public Library, the local fire rescue service and The Aventura Police Department are positioned throughout the city. Reflecting a quiet ambience with a CodeRED Emergency Notification System, Aventura is a safe environment for children of all ages and adults looking to take an evening stroll or play outside.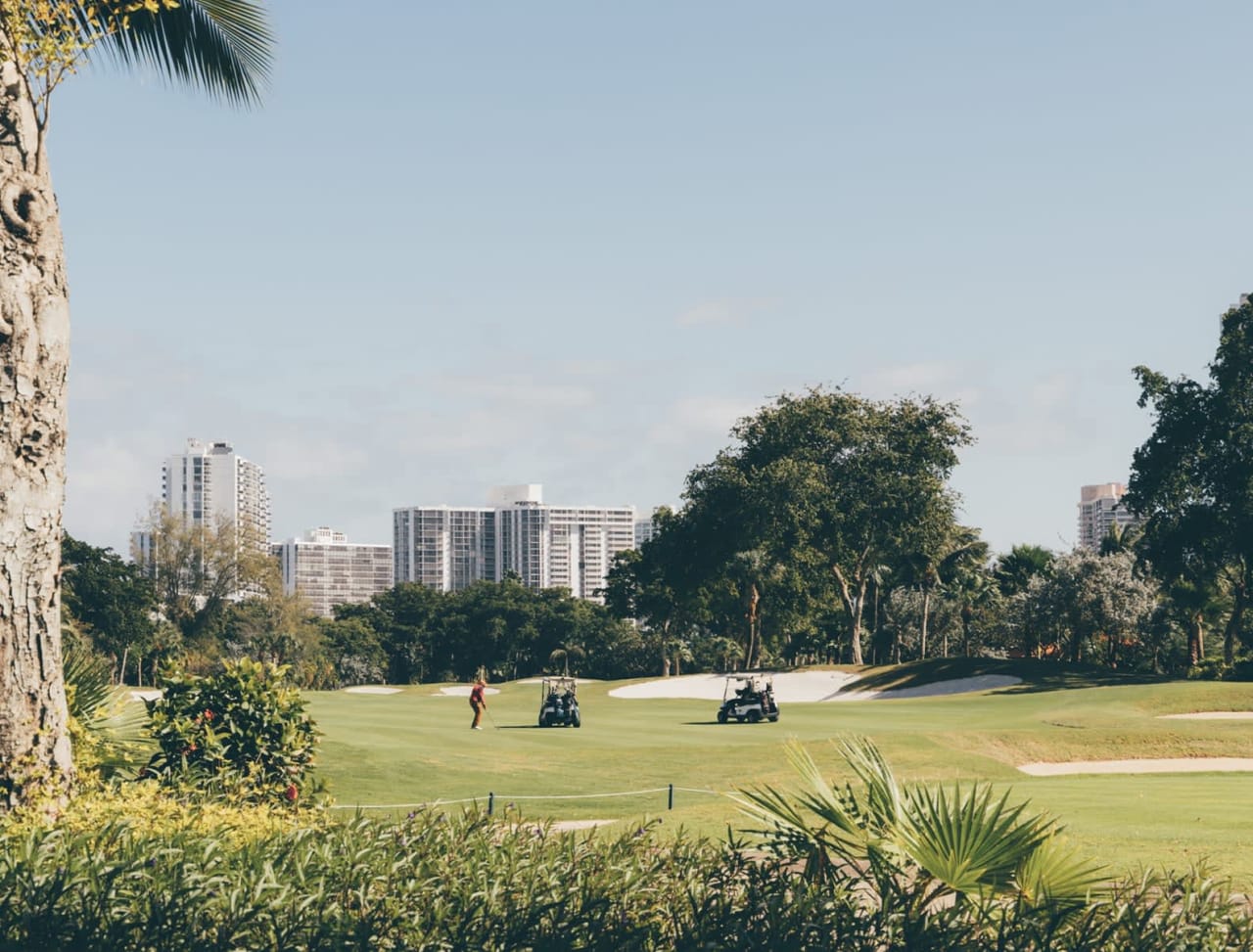 Signature Commercial & Residential Developments in Aventura

Aventura is shaped with contemporary high rises, luxury condominiums, private gated communities and single-family homes, almost all complete with unobstructed views of the Intracoastal Waterway. First founded in 1995, Aventura is both well-planned and structurally developed, balancing modern construction with a warm and inviting aura. Stunningly beautiful architecture brimming with gated communities carpet the community, many of which border Country Club Drive including Porto Vita, The Hamptons, The Landmark, The Point, The Terraces at Turnberry, Turberry Isle, Turnberry Towers and Turnberry Village. There are also multiple buildings located off Country Club Drive, all which feature the best of indoor-outdoor living. Aventura houses for sale on Williams Island, Peninsula and Privé at Island Estates, tucked away on the last buildable private island in South Florida, allow for amenitized luxury living with on location restaurants, a private marina, health center and tennis courts.

For those looking to indulge in the quintessential Miami lifestyle and have an affinity for exceptional backyards, the Presidential Estates is perfect for estate-style living. Supplementary gated communities that offer single family homes include Oak Hammock Estates and Highland Lakes. Aventura homes for rent are available.

However, of all the countless reasons to flock to Aventura, Forum Aventura should be rated number. A surging skyscraper, this sleekly designed commercial office building is the landmark of modern commercial real estate in South Florida. Designed in collaboration with Arquitectonica, Mariano Ferrante and landscape designer Roberto Rovira, Forum Aventura has brought the most exciting forces in architecture and design together to create an engaging and exhilarating building with 360 degrees of panoramic views. An elevated corporate lifestyle, tenants can explore a new way of working with next level amenities such as exclusive office levels, 14ft ceilings, sky lounge, terrace park, meeting room, conference room, wet bar, outdoor meeting environment with uninterrupted views and cutting-edge integrated technology.

​​​​​​​Located only minutes away is the inspiring Aventura ParkSquare. Second to Forum Aventura, Aventura ParkSquare has breathed new life into how businesses traditionally approach the workday, re-defining the phrase, "live, work and play." Incorporating everything from state-of-the-art residential apartments, high-end offices, sophisticated senior apartments, a Starwood Aloft Hotel, wellness center and 55,000 square foot retail center, Aventura residents and employees can thrive from day to night inside an aesthetically pleasing community. Restaurants and storefronts located inside Aventura ParkSquare include Ice Box Café, bartaco, Barry's, Graziano's, Doc B's, solidcore, Casa D' Angelo, Delicious Raw Kitchen Juice Bar, Ono Poke Shop and Van Laser Club.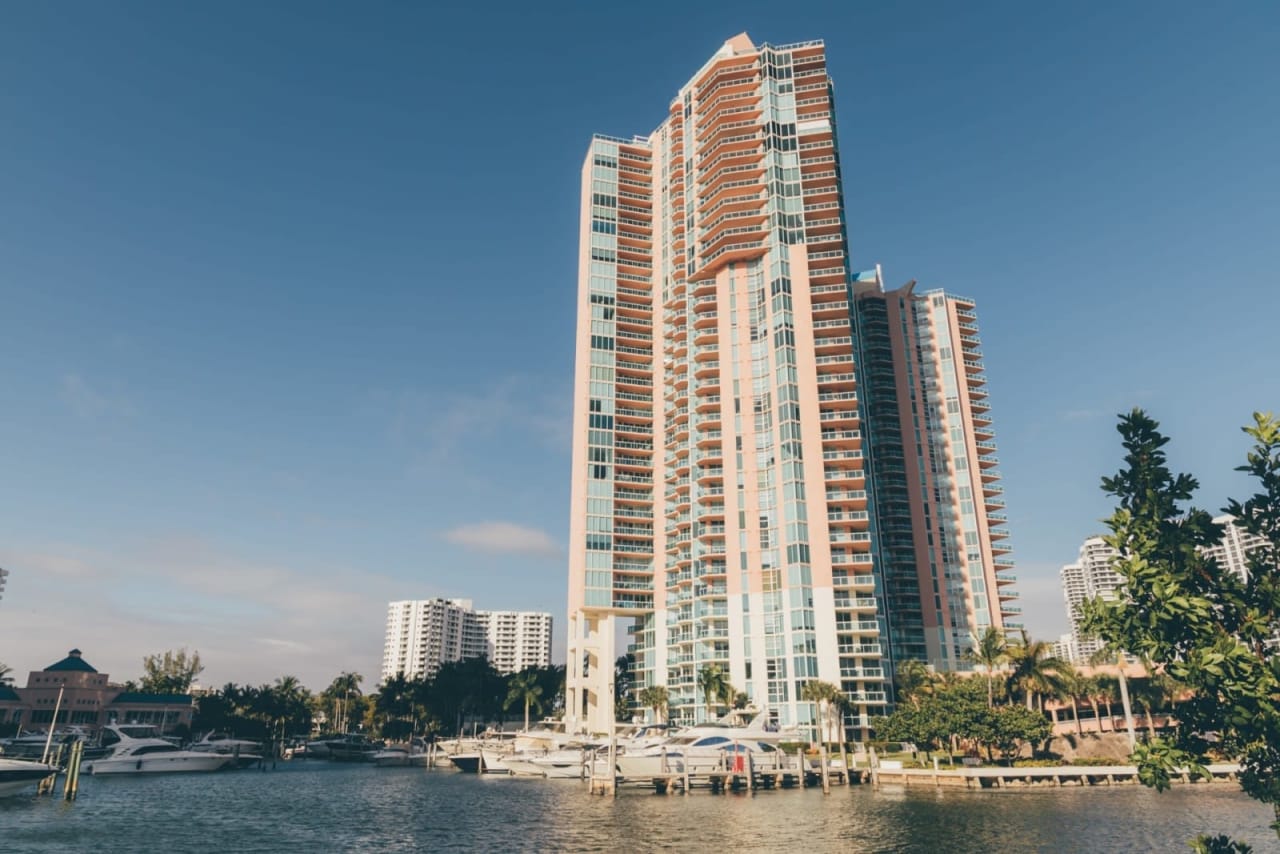 Iconic Shopping in Aventura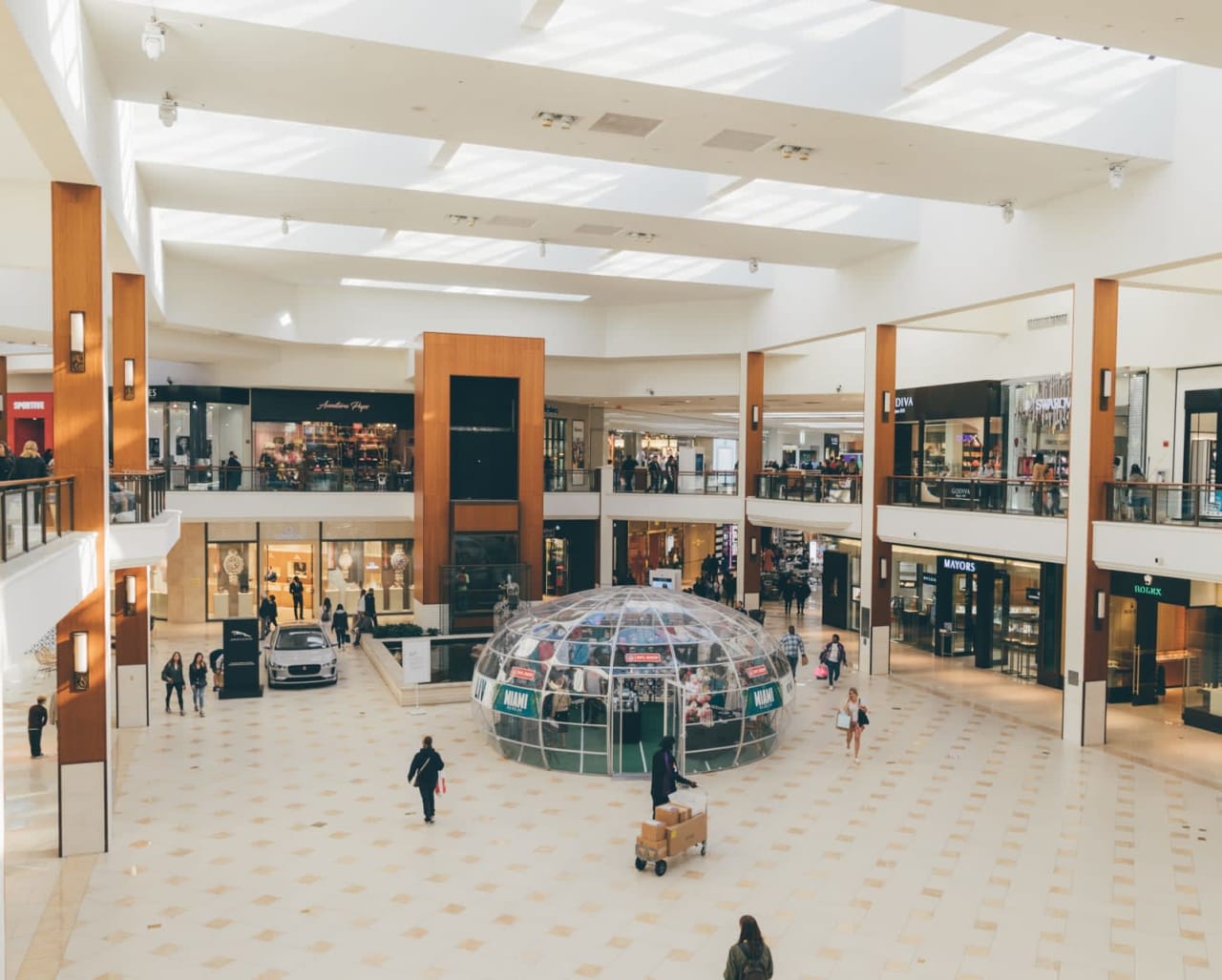 Aventura's most eye-catching element is its untraditional shopping mall, Aventura Mall. Home to the largest retail destination in Miami and Fort Lauderdale, Aventura residents can peruse over 300 boutiques, couture brands and department stores. Notable and high-end storefronts include Bloomindale's, Nordstrom, Apple, Brietling, Cartier, Fendi, Gucci, Jimmy Choo, Louis Vuitton, MAYORS, Prada and Saint Laurent.​​​​ A lifestyle-driven destination, there is no better place to explore a bounty of diverse cuisines
with new-concept restaurants like Tap 42 Craft Kitchen & Bar, Divieto Ristorante, International Smoke, PANI, Pure Vida, El Pastor Taco House, Pubbelly Sushi Restaurant, Serafina Miami, CVI.CHE 105, Genuine Pizza, Le Pain Quotidien, The Cheesecake Factory and Bella Luna. Treats Food Hall, located on the third level of Aventura Mall's 315,000 square foot expansion wing, is an immersion gastronomic experience with outposts hailing from across the country. Food Network Television Star, Guy Fieri, in partnership with legendary restauranteur, Robert Earl, lends eaters a taste of fried chicken with his popular eating house, Chicken Guy! Compelling art works by world famous artists, activated throughout the mall, make this ultimate shopping arcade an art deco haven for locals and visitors alike.